Since 2001, the Florida Tourism Hall of Fame acknowledges contemporary and historic figures whose vision, creativity and drive have had a positive and significant impact on the development of Florida as a desirable visitor destination. One individual is chosen annually and announced during the Governor's Conference on Tourism. The award is presented on behalf of the VISIT FLORIDA Board of Directors.  For more information, email ahopkins@visitflorida.org.

Nominations are closed.

The nomination period will open in January 2024.
Inducted in 2023:
The 2023 Florida Tourism Hall of Fame inductee is Tony Lapi.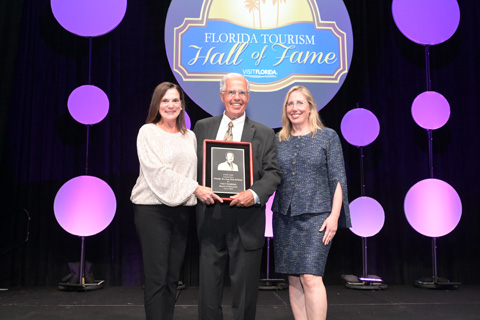 Tony began his hospitality career in 1976 when he and his wife, Angie, moved from Rochester, NY to Sanibel Island. He along with some other partners purchased the historic Tween Waters Inn that October. The Inn at that time was composed of 47 cottages, a small marina and modest restaurant. In those days Captiva was still only known to a few winter visitors and the summers were extremely slow.

As General Manager and later as President/CEO, Tony was involved in extensive expansion of the property. In 2011, Tony was instrumental in having Tween Waters Inn placed on the National Register of Historic Places. During this period of growth, the operation went from six employees to 230 and rebranded itself as Sanibel Captiva Beach Resorts. In the beginning of 2022, Tony stepped down from President and CEO and is now Chairman of the Board.  After the impact of Hurricane Ian which devastated the barrier islands of Southwest Florida and destroyed three of the four properties, Tony will remain involved in the rebuilding of these three properties along with his continued involvement in the hospitality industry.

Tony has been recognized for his service to the community and the hospitality industry and received many of the following awards. In 1997 he was awarded Sanibel Citizen of the Year by the Sanibel Captiva Chamber of Commerce; in 2005 he received the Sam Bailey Award for Community Outstanding Service; in 2006 Tween Waters Inn received the Lee County Business Hall of Fame Award"; in 2009 Tony received the Sanibel Community House "Gordon Schopfer Lifetime Achievement Award; in 2011 he was named the Junior Achievement Hall of Fame Laureate; In 2012, he was the recipient of the Junonia Award by the Lee County Visitor and Convention Bureau; and in 2013 Tony was awarded the "Paulette Burton Citizen of the Year Award" by Lee County.

In the past Tony has been President of the Sanibel Captiva Chamber of Commerce, President of the Sanibel Community Center, Chairman of the Sanibel Annual Shell fair, Commissioner of the City of Sanibel Planning Commission, and past Chairman of Visit Florida. Currently he serves on the Lee County Horizon Council, Lee County Tourist Development Council, The United Way of Lee County, The Captiva Community Panel, the Captiva Island Historical Society, the Sanibel Captiva Foundation of the Islands and he serves on the Advisory Board for Florida Gulf Coast University's School of Hospitality.