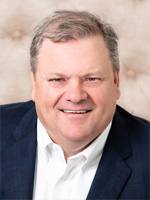 Scott Shalley
Title: President & CEO
Organization: Florida Retail Federation
Committee Position: Chair of Audit Committee
R. Scott Shalley currently serves as President & CEO of the Florida Retail Federation (FRF). For over 80 years FRF has served as the voice of Florida's immense retail industry. As President & CEO, Shalley maintains responsibility for all areas of FRF operations including oversight of Georgia Retailers, FRF Services, FRF Realty and other related ventures.

Shalley joined FRF in 2017 and has over 30 years of experience in lobbying, association management and private sector business management. Prior to joining FRF, Shalley served as Executive Director of the Florida Association of Counties. He has worked extensively with lawmakers and government agencies throughout Florida, and in Tallahassee and Washington, D.C.

Shalley previously served as Vice President/Director of Business Management for an internationally recognized bridge engineering firm. His responsibilities included contract negotiation and business development throughout the United States as well as in South America and Saudi Arabia.

Shalley resides in Tallahassee, Florida with his wife Marsha and their three children.