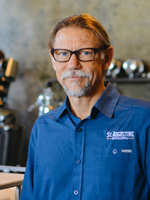 Philip McDaniel
Title: CEO
Organization: St. Augustine Distillery
Committee Position: Member
Philip McDaniel currently serves as Co-Founder & CEO of St. Augustine Distillery (STAD). Since 2011, STAD has helped pioneer Florida's craft distilling industry to modernize state beverage alcohol laws and establishing the #1 visited and rated craft distillery tour in the USA. McDaniel oversees STAD operations including the distillery's tour experience, wholesale, marketing, governmental and industry relations.

McDaniel co-founded STAD in 2011 and has over 40 years of experience in retail sales, marketing, advocacy and private sector business management. Prior to launching STAD, McDaniel served as CEO of USI Promotions which was a leading supplier of consumer sales promotions to the convenience store
and oil marketing industry. Since founding STAD, he has worked frequently with state legislators and trade associations in both Florida and Washington, D.C.

Philip is a motivating and respected force in both his community and workplace, using his passion, tireless energy and vision to engage others to succeed. Philip is most inspired by his wife Wendy of 40 years and their four children. Philip enjoys playing music, cooking, swimming and surfing with friends and
family.