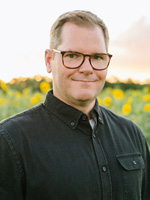 Sam Haught
Title: Owner
Organization: Wild Florida Adventure Park
Committee Position: Member
Sam is currently co-founder and co-owner of Wild Florida Airboats, LLC. He earned a bachelor's degree in business finance from the University of Utah and an MBA Degree from Rollins College. Prior to Wild Florida, he has 11 years experience at Goldman Sachs, Bountiful Development and Live TV.

Originally from Arizona, he earned an Eagle Scout award and served a two-year Mission to Florida for the Church of Jesus Christ of Latter-Day Saints. Sam later fell in love and married a beautiful Florida girl named Kara and returned to live in Central Florida. Now, 20 years later, and a happily married father of five, he is an active member of the community, with leadership roles in his Church, several chambers of commerce, convention and visitors' bureaus, charitable organizations, and school groups in the state he loves.

Eternally proud and grateful for his wife Kara and their 5 kids, he knows they will be successful in life because of her! Sam is driven by his love for his family and savior Jesus Christ. He and his family inspire others with their appreciation and enjoyment of all the beautiful things wild Florida has to offer.