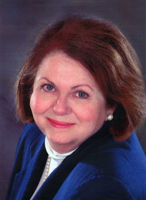 Donna Ross
Organization: Retired
Committee Position: Member
Donna Ross retired in 2007 from the Florida Attractions Association.
She was president and chief executive officer of the Association for 19 years.

Ross' organization management background included seven years with the Florida Chamber of Commerce, where she held several positions including staff vice president of economic affairs. Prior to that time, she spent five years as a regional director for the National Sudden Infant Death Syndrome (SIDS) Foundation.

Ross has a Bachelor of Science degree from Georgia State University. She is also a graduate of the Institute for Organization Management at the University of Delaware, a six-year summer program designed to enhance the knowledge and skills of association staff executives. Ross qualified for and passed the CAE exam in 1995 and was one of 2200 certified association executives in the nation. She continues to hold the designation in retirement.

Ross was a gubernatorial appointee to the Florida Commission on Tourism as well as the VISIT FLORIDA Board of Directors and served as its first woman chairman of the board. Prior to her chairmanship, she also served VISIT FLORIDA as secretary and treasurer as well as chairing the Legislative Task Force and the Marketing Steering Council. She held memberships in numerous tourism industry organizations, served on the board of the Tallahassee-Leon County Convention and Visitors Bureau, the advisory board of University of Central Florida's Rosen College of Hospitality Management, and is a past board member of the National Council of Attractions of the Tourism Industry Association (TIA) of America.

In 2000, she served as president of the SKAL Club of Tallahassee.
In 2004, Ross was inducted into the Florida Tourism Hall of Fame.
In 2006, she was the recipient of the "Tommy" award presented by the Tallahassee-Leon County CVB.

Ross held memberships in TSAE, FSAE, and ASAE (societies for association executives). She is a past chairman of the board for the Florida Society of Association Executives and was a long-time trustee for its Foundation.

In 1998, she was named FSAE's Association Executive of the Year.
In 2001, she was named Association Executive of the Year for the Southeastern United States by Southeastern Association Executive Magazine.

Ross now lives in Sylva, North Carolina where her husband, Frank Lockwood, is director of the Masters of Entrepreneurship Program at Western Carolina University (WCU). She has served on the advisory council of the hospitality program at WCU, on the board of the Friends of Jackson County Library, and is an active supporter of the Jackson County Clean Slate House (prison release for women), Webster Enterprises (a sheltered workshop), Full Spectrum Farm (autism), and Cullowhee Mountain Arts.

She spends a lot of time being entertained by three of her five grandchildren - 10-year-old Sam and 3 ½ year old twins, Jack and Ford, who live nearby in Asheville!