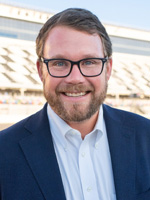 Chip Wile
Title: Senior Vice President | Chief Track Properties Officer
Organization: NASCAR
Committee Position: Treasurer
Chip Wile serves as Senior Vice President and Chief Track Properties Officer of NASCAR, overseeing operations across 13 NASCAR-owned motorsports facilities. This is a new strategic role within the company that relies on his experience and operational acumen.

Wile previously served as the President of Daytona International Speedway (DIS) for six years, NASCAR's flagship motorsports facility, where he oversaw promotion and operation of the modern facility following its $400 million redevelopment including event entertainment, fan amenities and ticket sales.

From 2013-2016, Wile served as the President of Darlington Raceway where he spearheaded a five-year strategy to reinvent the track known as "Too Tough to Tame" by celebrating its storied past and incredible future. Wile led his team to host an inaugural throwback thematic during NASCAR's return to Darlington Raceway on Labor Day Weekend in 2015 and that continues today.

Prior to his appointment at Darlington Raceway, Wile served as the director of business development for Motor Racing Network (MRN) in Concord, NC. He developed and implemented new business opportunities for MRN and acted as the network's primary liaison to Track Sponsorship and Integrated Media Sales. Wile also worked with stakeholders in the motorsports community to build partnerships and identify common growth strategies, with direct responsibility for MRN's overall marketing and promotional efforts.

Before his tenure at MRN, Wile accumulated more than 10 years of experience in the motorsports industry working in team public relations and partnership marketing for various NASCAR race teams including Penske Racing, Bill Davis Racing and Turner Scott Motorsports. In his partnership marketing role, he worked with many sponsors critical to the success of the sport from Caterpillar and Verizon to Exide Technologies and Dollar General. Wile is a board member for the Daytona Regional Chamber of Commerce and United Way of Volusia / Flagler Counties. He is also a member of the Rotary Club of Downtown Ormond Beach.

Wile has received numerous industry honors and accolades including being named to Sports Business Journal's Forty Under 40 in 2017 and an honoree of the University of Georgia Alumni Association's 40 Under 40 in 2018. Wile, a native of Atlanta, Ga., holds a Bachelor's degree in Communications from the University of Georgia. He and his wife Catherine have three children, twin boys Rigsby and Woodson and daughter Jane Alyce.