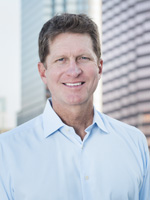 Joe Collier
Title: President/CEO
Organization: Mainsail Lodging & Development
Committee Position: Member
As Founder and President, Joe Collier sets the tone for Mainsail and, together with his leadership team, works to build a company where employees, partners and investors are all highly valued, and new ideas are welcomed. A native Floridian born in Miami, Joe received his Bachelor of Science in Hotel Management and Marketing from Florida State University and completed his internship in the European Hotel program in Leysin, Switzerland. He spent 15 years with Marriott International in sales, marketing and development before forming Mainsail in 1998.

Under Joe's leadership, Mainsail was selected to develop and manage the world training headquarters for PricewaterhouseCoopers which included a 130,000 square foot training building, 360 unit hotel and amenities under a 10 year master lease with PwC. Since then Joe has established a high-end portfolio of lifestyle, boutique hotels, vacation rental homes and corporate furnished apartments throughout the United States and Caribbean, for which Mainsail is the General Partner on the majority of its projects. The company has been consistently recognized for excellence in the travel industry by Condé Nast Traveler, Trip Advisor, Southern Living, Wine Spectator and U.S. News & World Report. Additionally, Mainsail has received multiple awards from Marriott International, including induction into the Partnership Circle Hall of Fame.

Joe has been working in hotels and restaurants since he was 13 years old. He personally oversaw the restoration of the historic Leiman Home which is an architectural gem in South Tampa and on the National Register of Historic Places. Joe served as the Chairman of both Visit Tampa Bay and Tampa Bay Sports Commission and participated in bringing both the National Football Championship and Super Bowl LV to Tampa. Joe is an executive board member of the Hillsborough County Hotel Motel Association and has served on the Tourist Development Council since 2005. Joe was awarded the "Gonzmart Family Tourism Ambassador of the Year" by Tampa's hospitality industry. In 2022, Mainsail entered into a multi-year partnership with the USF Muma College of Business to provide funded student fellowships to benefit the School of Hospitality and Tourism.

Joe and his wife Camille are affiliated with multiple charities, have 3 children and live in South Tampa.