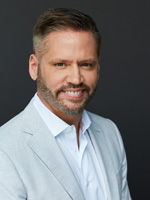 Adolfo Perez
Title: Senior Vice President of Global Sales and Trade Marketing
Organization: Carnival Cruise Line
Committee Position: Member
Adolfo Perez, a 41-year veteran of Carnival Cruise Line, is Carnival's Senior Vice President, Global Sales and Trade Marketing.

In his current capacity, Perez is responsible for Carnival's business development teams, sales strategy & operations, and trade marketing functions. Additionally, he leads operations for Carnival's UK and Australia business, international sales, and the company's charters, meetings, and incentives business. Perez, having always understood the value of the travel advisor distribution channel, has been championing and advocating for the trade for decades. Since taking on this role he has introduced several successful initiatives to reinvigorate and fortify relationships with travel advisors including increasing commissions, launching the company's Travel Agents Rock support programs, and expanding Carnival's relationships with consortia partners. Additionally, he added new sales territories designed to provide even better direct travel agent support. Under his leadership, Carnival launched Why Use a Travel Agent, the industry's first-ever consumer-focused campaign to reinforce travel advisor value. Perez notes that his most important goal at Carnival is to be the travel agent's advocate and voice at the Carnival headquarters, a role he takes very seriously.

Adolfo shares his passion for the cruise industry as a board member for Greater Miami Convention & Visitors Bureau. And through his monthly From Adolfo's Desk LIVE webinar with guests from across Carnival and the industry and has a passion for reaching advisors one-on-one through his active Facebook page which has almost 70,000 followers. He was inducted into the CLIA Hall of Fame with a Lifetime Achievement Award in 2022 following his 40 years of service to Carnival and the cruise industry.

Perez joined Carnival in 1982 as an embarkation agent and has held multiple managerial positions within the company's reservations and sales departments over the past four decades. These roles have included vice president of contact center sales, overseeing the line's reservations call centers where he developed many relationships within the travel agent community. Perez was tasked with setting up and running Carnival's UK sales and marketing office in London from 2011-2013. Prior to joining sales and trade marketing, he served as the company's vice president of new markets and new product marketing and was responsible for developing the company's first-ever Hispanic marketing campaign in 2014 and launching many of the company's new product offerings including the Carnival Vista launch, Carnival LIVE, Camp Ocean, and Carnival Journeys.

A resident of Miami Beach, Fla., Perez earned both his undergraduate and MBA degrees from Florida International University in Miami, as well as a Certified Travel Counselor (CTC) designation from the Institute of Certified Travel Agents (ICTA).