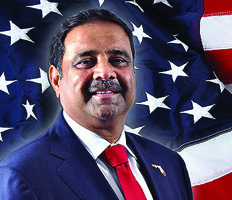 Danny Gaekwad
Title: Owner
Organization: MGM Hotels, LLC
Committee Position: Member
Danny Gaekwad is a first-generation American "renaissance entrepreneur" and community leader based in Ocala. He is the Founder-CEO of NDS USA, an IT & Cloud Services company, and the Founder of Danny G Management, which owns and operates various restaurants and hotels. He also owns DG Hospitality, a hotel and restaurant management consulting company, and Danny Gaekwad Development & Investments, which oversees his real estate investments.

In a business career spanning three decades, Gaekwad has built over a dozen small-and medium-sized companies in diverse areas that include convenience stores, real estate development, hospitality, and information technology. Over the years, his companies have created thousands of jobs in Florida and other parts of the United States, contributing hundreds of millions of dollars to the economy. In 2016, Gaekwad was recognized by then Florida Governor Rick Scott with the "One Million Jobs" certificate of appreciation for his contribution "in helping Florida job creators add 1 million jobs between December 2010 and December 2015."

Gaekwad has served in a variety of public, private and non-profit leadership roles including: Trustee, University of Central Florida Board of Trustees; Executive Board Member, Enterprise Florida Board of Directors; Executive Board Member, VISIT FLORIDA; Governor, Florida Chamber of Commerce Board of Directors: Chairman, Marion County Visitor and Convention Bureau: Chairman, Marion County Tourism Development Council; Vice Chairman, Marion County Planning and Zoning Commissioner; Florida Governor-elect's Transition Advisory Committee on the Economy; and National Government Affairs Committee Member, AAHOA.

Gaekwad has been recognized at the local, state and national levels on numerous occasions for his accomplishments in business and community service including: Asian American Hotel Owners Association Chairman's Award; Lion of the Year Award; Leaders Leader Award, Marion County; Community Service Award, Federation of Indian Seniors Association of North America; Pride of India Award; Glorious India Chairman's Award; Lifetime Achievement Award, Bharat Gaurav; and Ocala Person of the Year.