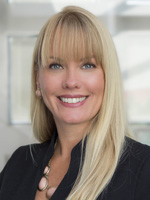 Jennifer Berthiaume
Title: Vice President
Organization: Lion Country Safari
Committee Position: Member
Jennifer Berthiaume serves as Vice President for Lion Country Safari. Previously, Berthiaume was the park's Managing Director since early 2018 and the PR and Marketing Director since 2002. Berthiaume is the park's first female Managing Director and now Officer in 52 years.

In her role as Managing Director, Berthiaume and the management team guided Lion Country Safari through numerous improvements and changes including Safari Falls, the park's immensely popular new water attraction. Conservation efforts have grown substantially and a number of beautification efforts are also well underway under the leadership of Berthiaume and park CEO Marc Unterhalter.

Prior to Lion Country Safari, Berthiaume spent six years working in the public relations industry including Busch Gardens Tampa Bay. She graduated from the University of South Florida with a degree in Mass Communications in 1996.

Due to her experiences throughout her tenure with the park, Berthiaume has been recognized by her attraction industry colleagues throughout Florida for her leadership qualities. A person who enjoys giving back to the tourism industry, she currently serves as the Chairman of the Florida Attractions Association Board of Directors. She serves as one of only 18 board members, representing nearly 250 industry businesses and over 340,000 Floridians employed in her industry.

Berthiaume's list of recognitions during her career includes Florida Attractions Association Member of the Year (2017), Finalist for Women of Worth by Central Palm Beach Chamber of Commerce (2016), South Florida Sun-Sentinel Top Workplace Professional (2015), and Finalist for Athena Young Professionals Award (2013). She has also been a frequent speaker at the Florida Festival and Events Association Conference and the Florida Attractions Association Conference.

Jennifer has been a resident of Palm Beach County for a majority of her life and has worked in the tourism industry her entire career. Jennifer is a wife and proud mother of two beautiful girls, Haley and Brooke. She and her family proudly support many charities including conservation-based charities, charities that support our military and children in need.