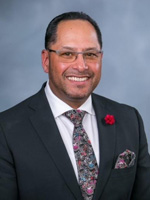 Jesse Martinez
Title: General Manager
Organization: The Alfond Inn
Committee Position: Member
Jesse E. Martinez, General Manager of the award winning Alfond Inn at Rollins. With his strong leadership the hotel has been globally and nationally recognized by Travel & Leisure and Conde Nast as Top 100 Hotels in the World, the Best Hotel in the State of Florida along with being ranked in the top 10 best hotels in the U.S.

Mr. Martinez is a seasoned executive management professional with 23 years of hospitality leadership experience in luxury and convention business. He has served in upper management positions to include General Manager with AAA Four Diamond branded hotels such as Marriott, Hilton and Starwood and Area Security Director for Hilton Hotels San Antonio.

He is a General Manager who has delved into nearly every aspect of hotel operation from the ground up. His early experience included safety & security and front office operations as well as housekeeping, engineering, transportation management and daily hotel operations. He attended the University of Texas at San Antonio and Community College of the Air Force.

Martinez is a 22 year veteran of the United States Air Force, retiring in January of 2011. He currently serves as the Treasurer on the Central Florida Hotel Lodging Association Executive Board, sits on the Executive Board of the Winter Park Chamber, and is a member of SKAL Orlando Chapter.