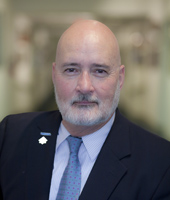 Glenn Hastings
Title: Former Executive Director
Organization: Retired
Committee Position: Member
Glenn Hastings' engagement with Florida tourism first began in the summer of 1970. While attending school in Central Florida, he got a paid internship with a daily newspaper. His abilities as both a photographer and a writer paid dividends in the way of assignments involving travel. Being relatively new to the Sunshine State, he produced a series of travel features called "The Discover America Portfolio." Foretelling the future perhaps, the first installment in the series was a photographic essay on the nation's oldest permanently occupied European city, St. Augustine.

Now, just over 30 years later, Glenn is in his 17th year as Executive Director of the St. Johns County Tourist Development Council. He served 15 of those years as the first President and CEO of St. Augustine, Ponte Vedra & The Beaches Visitors and Convention Bureau. He is the founder of Florida's Birding & Photo Fest and oversees the County's Cultural Events Division which operates the St. Augustine Amphitheatre, the Ponte Vedra Concert Hall and produces special events.

Prior to moving to St. Augustine, Glenn's work experience included publicity and sales positions with the Florida Division of Tourism, Director of the Daytona Beach Chamber of Commerce's tourism department, and Executive Director of the Polk County Tourist Development Council. He also owned and operated a Kissimmee River waterway expedition company in Central Florida and has served as Chairman of the Board for the Florida Association of Destination Marketing Organizations.

He and his wife Tracy have been married 23 years and have two daughters, Rebecca Latham of Red River, New Mexico and Lindsey Guthrie of Tampa, both of whom are involved in tourism destination promotion in Florida and New Mexico.