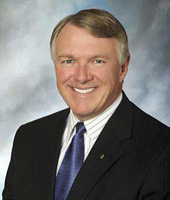 John Tomlin
Title: CEO
Organization: Tomlin St Cyr & Associates
Committee Position: Member
Term: 07/01/2016 to 06/30/2025
John Tomlin was born and raised in Philadelphia, Pennsylvania. He graduated from the University of Pennsylvania - Wharton School with a BA and MBA, with majors in Finance and Accounting. John continued his education and has been granted the following designations: Chartered Property Casualty Underwriter (CPCU), Charted Life Underwriter (CLU), and Charted Financial Consultant (ChFC) and was previously a Certified Public Accountant (CPA).

After moving to Cleveland and working for Standard Oil of Ohio, he joined Progressive Insurance in 1981. In 1984 he was promoted and moved to Tampa Florida, which is now home.

He joined AAA Auto Club South in 1989 as Vice President of Insurance and Financial Services. John was named President of Auto Club South Insurance Company in 1999, appointed to the position of Executive Vice President of AAA Auto Club South in February 2002 and in February 2004 was promoted to Chief Operating Officer. In May of 2006 John was named Chief Executive Officer of Auto Club South Insurance Company and on December 21, 2009 became President and Chief Executive Officer of AAA Auto Club South.

Effective October 1, 2011, AAA Auto Club South affiliated with The Auto Club Group and John was appointed Chief Operating Officer of ACG as well as President and Chief Operating Officer of Auto Club Insurance Association. This combination created an organization with 8.5 million members, over $500 million in Travel Sales and $2.5 billion in revenue serving members in 11 states, Puerto Rico and the US Virgin Islands.

John served on several AAA Committees and Chaired of the Travel Strategy Committee and the Travel Publishing Strategy Task Force. He was a member of the AAA Board of Directors, AAA Life Re Ltd. Board and the AAA Foundation for Traffic Safety Board.

After 26 years of service, John retired from The Auto Club Group in May 2015 to pursue a career in real estate with his daughter Ali and wife Holly.

John serves on the Board of Independent Day School, is Past Chairman of the Crisis Center of Tampa Bay and Past Chairman of Junior Achievement of West Central Florida. He currently is the Chair of the Florida Council of Tourism Leaders, a member of the VISIT FLORIDA Board of Directors, a member of the Moffitt Cancer Center's Board of Directors and past director of Visit Tampa Bay.

John and his wife, Holly, reside in St. Petersburg Florida and have a daughter and two sons.