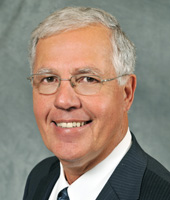 Tony Lapi
Title: TDC Member
Organization: Sanibel Captiva Beach Resorts
Committee Position: Member
Tony Lapi serves as the President and CEO of 'Tween Waters Inn Island Resort. Tony began his career in the hospitality business in 1976, when he and his partners purchased property and a few small structures on a breathtaking site at Captiva's narrowest section that bridges both Gulf and bay. Tony built the resort from the ground up, growing the staff from 2 to 130 and increasing the property's units from 47 to 137, along with purchasing two additional properties, Beachview Cottages and Castaways Beach to Bay, in 1979 and 1982 respectively.

Today, the legendary 'Tween Waters Inn Island Resort spans more than 13 acres and boasts 137 cottages, suites, studios and guest rooms with a spa, marina, three on-site restaurants, nature trails and eco-adventures.

Tony joined the VISIT FLORIDA Board of Directors in 2007 and most recently served as the 2011-2012 Chairman of the Board. In addition, he serves on the Lee County Tourist Development Council and the United Way Board, a position he has held for the last 18 years.

Tony holds a B.S. in Bacteriology from Syracuse University. He is married to his wife Angie and resides on Sanibel Island.