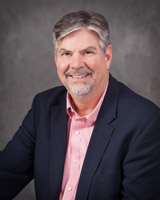 Dan Rowe
Title: President & CEO
Organization: Visit Panama City Beach
Committee Position: Member
For the past seven years, Dan Rowe has served as president and CEO of the Panama City Beach Convention & Visitors Bureau (CVB) and executive director of the Bay County Tourist Development Council (TDC).

In this dual role, Rowe is responsible for the development and implementation of the marketing and public relations efforts for the CVB, as well as overseeing Panama City Beach's federal beach renourishment project. He continuously promotes Panama City Beach as a REAL.FUN.BEACH, offering something fun for everyone on a year-round basis. His strategies have proven to be successful as the destination continues to see significant increases in visitation year after year.

In 2010, Rowe welcomed the opening of the $318 million Northwest Florida Beaches International Airport in Panama City Beach. Serviced by Delta Airlines, Southwest Airlines, United and Silver Airways, the airport has quickly proven to be a catalyst in attracting new travelers to the Gulf Coast.

Rowe also led Panama City Beach's tourism efforts through the Gulf Coast Oil Spill. He quickly became the media spokesperson for the region, countering travelers' concerns about the impact on the area's beaches. He also drove the community to partner together on several initiatives including vacation guarantee programs, gift card incentives and a Summer of Fun calendar of special events. Rowe's quick thinking and publicity on national news outlets such as CNN, Fox Business, The Weather Channel and NPR attracted the attention of the Obama administration which resulted in a visit by the First Lady followed by a summer vacation in Panama City Beach for the First Family.

Rowe's steadfast work during the crisis paid off. Revenues during the summer period were down only 15 percent compared to nearby destinations which suffered a 30+ percent decline. For the entire year, revenues only decreased by 1.8 percent. Following the spill, Panama City Beach has shattered records, in terms of visitation and visitor spending in each subsequent year, with total tourist development tax receipts increasing by 55.6 percent.

In 2012, HSMAI recognized Rowe as one of the Top 25 Most Extraordinary Minds in Hospitality Sales & Marketing for his work during the crisis. Rowe has also served as chairman of Destinations Florida.

Prior to joining Panama City Beach, Rowe served as the state travel director for the State of Georgia, as the Deputy Commissioner for the Georgia Department of Economic Development. He has also served as the Executive Director of the Tourism Development Alliance of Georgia, where he was recognized by for his leadership by the state. Before his career turned to tourism advocacy and destination marketing, Rowe was involved in marketing resort hotels and conference centers in Georgia and Colorado, including Callaway Gardens, Brasstown Valley Resort, and Aspen Skiing Company's Hotel Division. Rowe is a graduate of Colorado State University.