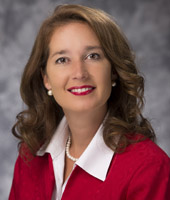 Tammy Gustafson
Title: Vice President, Sales Integration
Organization: Universal Orlando Resort
Committee Position: Member
After graduating from The Ohio State University, Tammy began her career in Marketing and Sales as an account executive for a local FOX affiliate in Columbus, Ohio.

After moving to Orlando in 1995, Tammy spent three years in related Marketing and Sales roles as an account executive for a UPN broadcast affiliate and managed major publicity accounts for Gilbert and Manjura Marketing, including St. Johns County, FL Visitors and Convention Bureau.

Tammy is currently an Executive with Universal Orlando Resort. Responsible for Sales Integration across the global sales divisions, Tammy works with International teams located in Latin America and the UK. Tammy joined Universal Orlando in September of 1997 as part of the Universal Studios Marketing team and was responsible for building the Universal Studios Florida brand on a global basis- growing to two theme parks, a night-time entertainment complex and three on-site resorts.

Appointed by the Governor's office to the Florida Commission on Tourism, Tammy served as President of the Visit Florida Board of Directors 2014-15 and has been on the board since 2005. She currently serves on the Florida Council of Tourism Leaders. Tammy has also served on the board for the Kissimmee/Osceola County Chamber of Commerce/Osceola Resort Area Council and Past President of the Friends of Florida State Parks.

Tammy brings years of experience and extensive travel industry knowledge to these organizations and has been a part of Leadership Orlando and the Central Florida Chapter of the American Marketing Association. She is an active member of the Clermont United Methodist Church. She and her husband Andrew, live in Winter Garden, Florida with their two sons Reece and Ty.