VISIT FLORIDA Marketing Planner Opportunity - Printed 09/27/2023
Welcome Center - Transparency Lease Program
Audiences: Consumers
Markets: In-state
Program Types: Welcome Center
Dates: Always-On
Commitment Deadline: N/A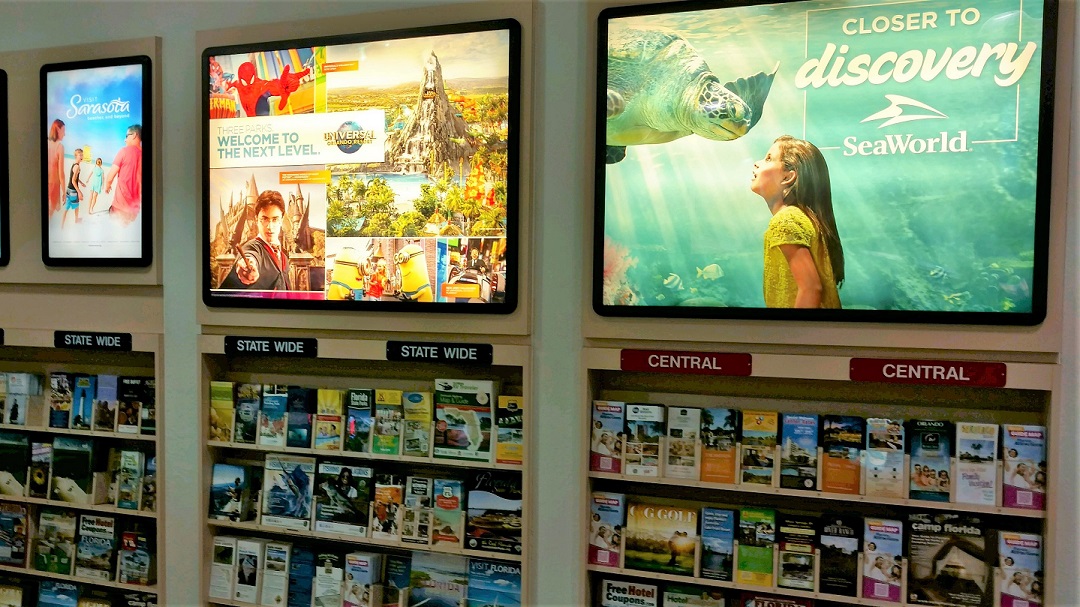 Since 1949, millions of auto travelers entering Florida along major thoroughfares have found a warm greeting at the Official Florida Welcome Centers. Visitors have found friendly, informative staff and a vast assortment of information promoting all that the state has to offer. Today, that tradition continues at these four Welcome Centers:
I-10 west of Pensacola
I-75 at Jennings
I-95 north of Yulee
State Capitol Building (west entrance)
Backlit transparency or duratran boxes are available at the three highway locations* of the Official Florida Welcome Centers. Transparency boxes are mounted above the brochure racks and are used to highlight your company's name, logo or slogan. Please see available forms for content guidelines and display rates.
All rates are for a twelve-month period. For special or seasonal events where continuous display is not desired, contact Visitor Services at (850) 205-3817 or DDodd@VISITFLORIDA.org to make arrangements.
Rates
Program
Marketing Partner
Web/Non-Partner
Savings
I-75 (Jennings): 38.25 x 27.75" (37.5 x 27" viewable)
$850.50
$1,122.00
24%
I-75 (Jennings): 38.25 x 32.625" (37.5 x 32" viewable)
$1,008.00
$1,320.00
24%
I-75 (Jennings): 38.5 x 65.875" (37.875 x 65" viewable)
$1,890.00
$2,475.00
24%
I-10 (Pensacola): 11 x 14" (10 x 13" viewable)
$256.25
$396.00
35%
I-10 (Pensacola): 30 x 20" (29 x 19" viewable)
$567.00
$792.00
28%
I-10 (Pensacola): 30 x 40" (29 x 39" viewable)
$1,144.00
$1,584.00
28%
I-10 (Pensacola): 36 x 48" (35 x 47" viewable)
$1,417.00
$1,980.00
28%
I-10 (Pensacola): 20.25 x 31" (19.75 x 30.5" viewable)
$567.00
$792.00
28%
I-95 (Yulee): 11.5 x 17" (11 x 16.5" viewable)
$256.25
$396.00
35%
I-95 (Yulee): 38.75 x 18.75" (38 x 18.25" viewable)
$661.25
$957.00
31%
I-95 (Yulee): 39 x 28" (38.5 x 27" viewable)
$850.75
$1,188.00
28%
I-95 (Yulee): 40 x 40" (39 x 39" viewable)
$1,701.50
$2,219.60
23%